Wednesday, 21 February, 2018 Filed in:
HomePod
The new Apple speaker, the HomePod, is not available in Ireland just yet, but I drove up to Northern Ireland to pick one up on the weekend of its launch. I had some ideas and limits on what to expect- I did not want an Amazon Echo. The Echo is a great product but it simply wasn't for me; I wouldn't use an audio assistant for information, I wanted a good music system in my kitchen, and so the HomePod was the right fit. I think many people see these two products as being in the same category, whereas I see two types of customers with different needs.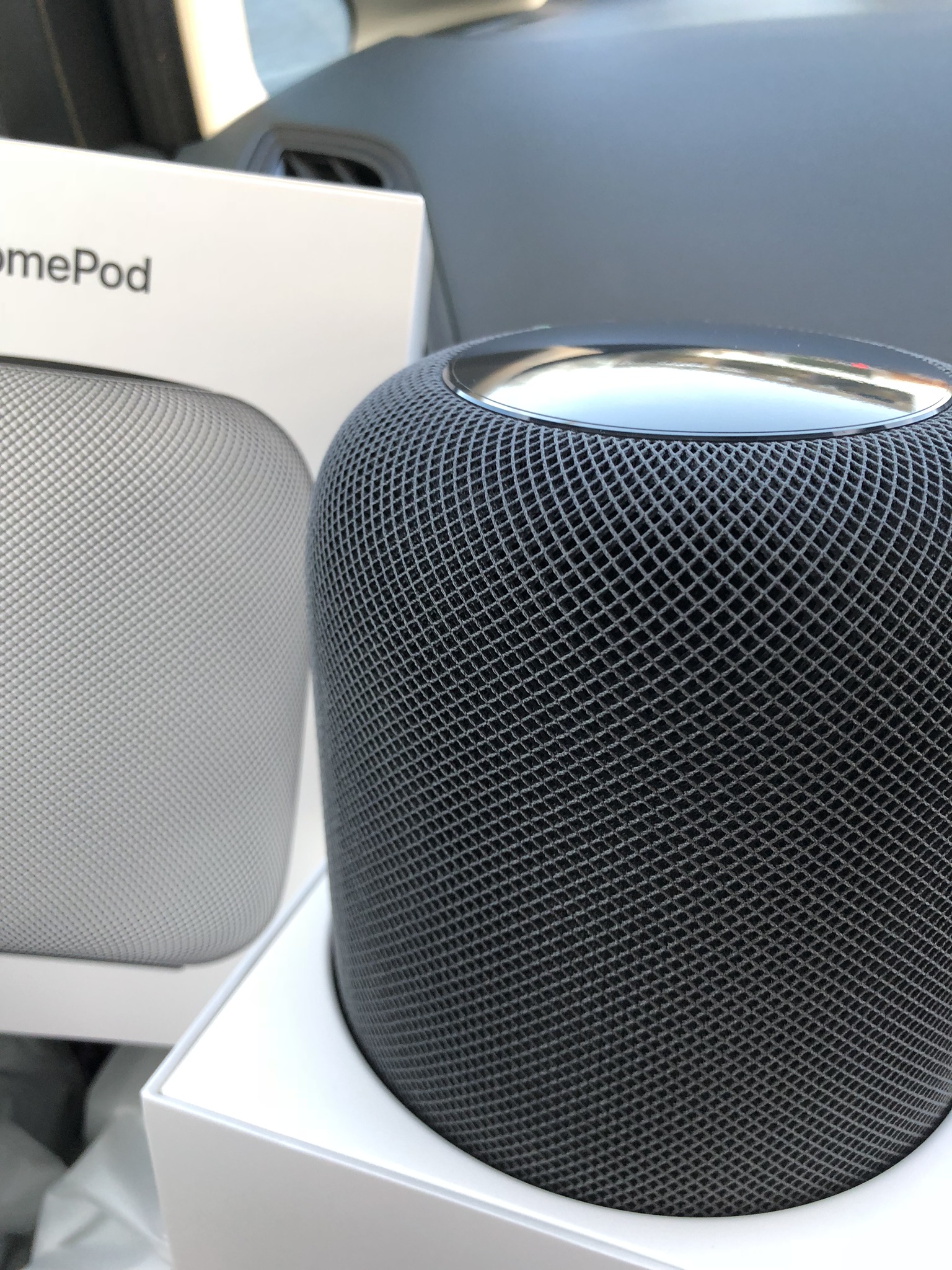 For rme, the HomePod is all about music (and podcasts in my case). I am the perfect audience for a HomePod as I am an Apple Music subscriber who wants good sound in my kitchen. I don't want to ask it trivia questions or use it to order from Amazon; sound quality is at the top of my list. I also don't like a microphone permanently in my kitchen, so Apple's privacy policy fits in with my own views on security.
So in the end the HomePod fits my views and needs, and to that end it has fitted perfectly into my home setup. I placed it in the kitchen, on my wooden kitchen counter, and can report that I have had no issues related to marks on the surface! The setup was incredibly simple with my iPhone recognising the HomePod close.by and asking me a few questions- almost identical to the setup of the Apple AirPods. When I think back to the voice recognition training required for Dragon Dictate (and years ago with IBM ViaVoice!), the technology has come so far. Yes it still has its quirks, but the improvements are incredible.
The main headline here is the sound- it sounds great. After a few days I began to wonder just how different it was as I had become used to the new sound, I turned on my old Beats speaker to compare- and this is when you realise just how good it is. My poor Beats Pill is really no rival and very outclassed, so the test is unfair, but I did think it was a good speaker to use in the kicthen. I am no audio expert but the sound quality on the HomePod is strong and clear and any speaker I had used in the past sounded boxy and mono by comparison.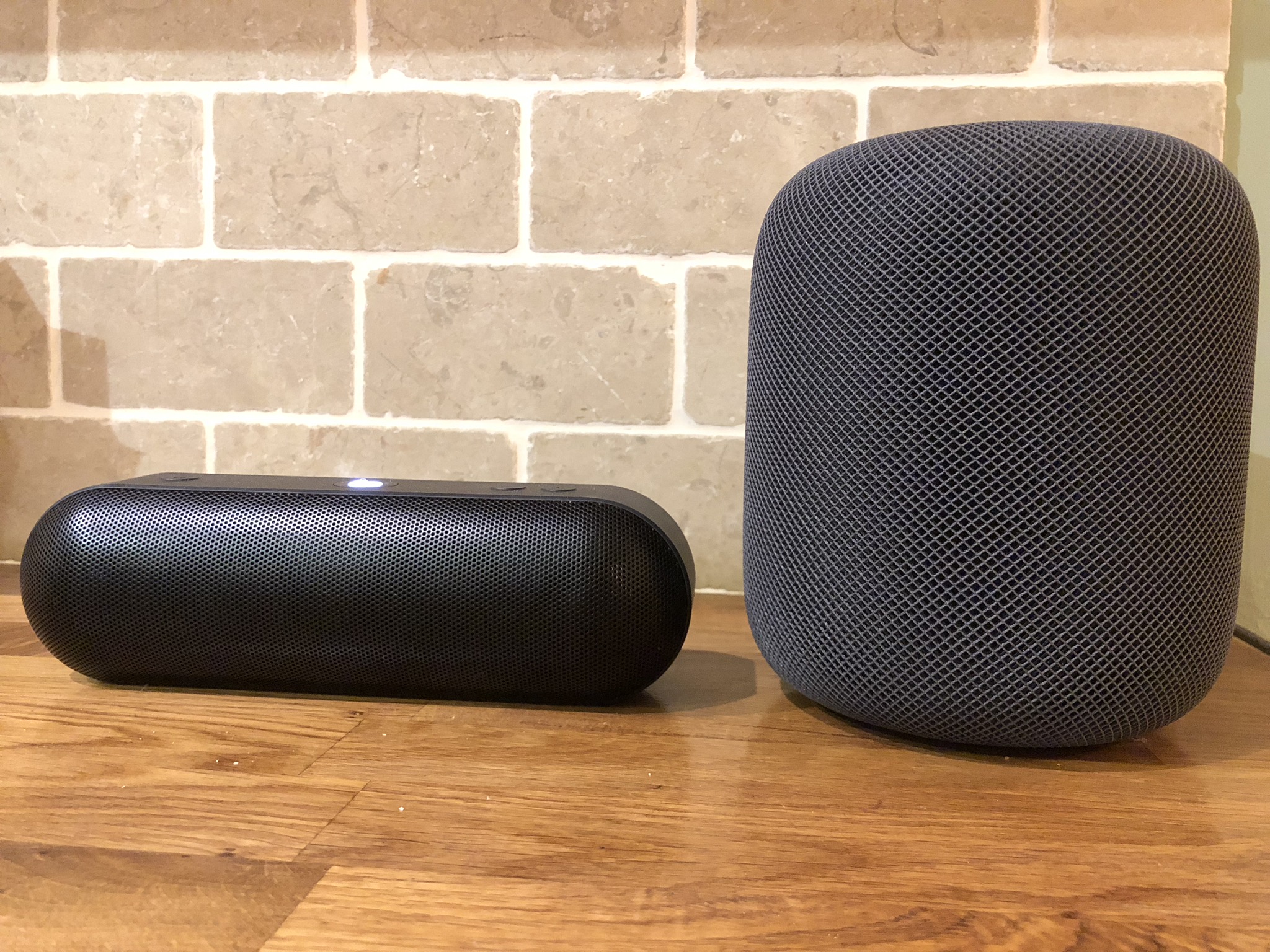 When it comes to interaction with the HomePod, Siri is a mixed bag. I can see why people would get frustrated with it, or possibly with any speech control system. Most of the time it plays what I ask for, but with so many mixes of songs, it can easily play a version of what you asked for, but not THE version you were after. For example I asked it for "Duel of the Fates by John Williams", from the Star Wars soundtrack, as this is a strong classical piece and tests the speakers nicely! But John Williams is not the artist, he is the composer and so Siri did not seem to understand and played other tracks with "Duels" and "Fates" in the title. It got there when I asked for "Star Wars Duel of the Fates" and so there is a bit of adjusting involved where you adapt to Siri, possibly even more than Siri adapts to you. Overall my interaction makes me feel it is adequate to good, if not by any means perfect. Sometimes I reach for my iPhone and just Airplay sound to the HomePod, simply because I can't think of the name of the track I want and find it easier to browse on my phone screen. There is also an element of not wanting to speak out loud to it- I find tapping on the phone easier. So I probably use Siri 50% of the time to start music and AirPlay the other 50%.
But I now regularly ask Siri for a playlist which I have setup in Apple Music and off it goes- perfect each time. My kids have had fun asking for songs and they too know how to ask, adapting the structure of their sentences to gain better accuracy. It is like Siri has rules for manners- you must ask the right way.
It does also have some nice touches- asking for the news headlines gives a BBC news summary for the day, which is a handy way to get up to date when arrriving home. The ability to ask Siri to set a timer is invaluable in the kitchen and items such as weather reports are nice touches, if things I use quite infrequently.
Lastly, the microphone in the HomePod does an amazing job in recognising speech despite the din! I can have the cooker extractor fan on next to the HomePod, with the kids chatting away, and Siri will still be able to recognise my "Hey Siri" request and interpret the instructions through the noise. Same for music; if a track is playing I can speak to Siri to change to a new song and it recognises my instruction as if the room was silent.
Overall the HomePod is pricey, but not too pricey for a great equality speaker. It matches my expectations and exceeds them in terms of sound and microphone recognition. The accuracy of its responses will change over time as Apple updates its systems as there is room for improvement there. But overall I am pleased with my purchase and it is a nice addition to my home